Who are we?
We are driven athletes bonded by a never-ending search for perfection. We are Olympians, World Championship finalists, and World Marathon Major winners. Together we pursue greatness, not only in the athletic arena, but also in our search for the perfect cup of coffee. By creating LINDEN X TWO, we want to share our zeal for world-class coffee with you.
What's the "x TWO" for?
We've learned a thing or two about striving for greatness during our time as competitive athletes, mainly, hard work is a requirement and nobody reaches the top alone. LINDEN x TWO is a celebration of commitment and collaboration. "x TWO" is for doing the extra set of work and for the partners and customers who teach, train and improve us along the way.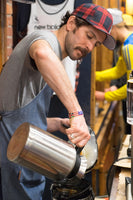 Why Coffee?
Coffee is a daily ritual for us and, as endurance athletes, it helps fuel our active lives. Whether running endless miles, cycling epic mountains, or swimming incalculable laps, coffee is our lifeblood. We created LINDEN x TWO to further our search for the perfect cup. By roasting the highest quality coffee in small batches, we aim to highlight and celebrate the unique characteristics each bean has to offer.
What is specialty coffee?
Specialty coffee is the highest grade of coffee available. It is sourced from the finest Arabica beans and must adhere to strict standards at every stage of the bean's journey from planted seed to brewed cup. We only source coffee from farmers who use sustainable and transparent methods to ensure that every bean is properly cared for, so you can have the best tasting coffee imaginable.